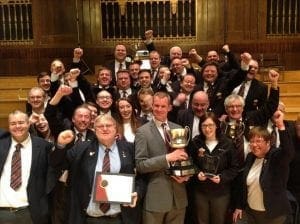 On Sunday 19 March Cory Band became Champions of Wales, regaining the title it last held in 2015. This means that in a 12-month period, the band has gone completely undefeated in all competitions – yet another incredible record to add to so many in recent times!
In addition to winning the competition, all the individual awards were also won by Cory players. The band would like to say an enormous congratulations to Solo Horn Ailsa Russell who won the hard-fought battle for the Best Instrumentalist after an excellent performance of the lyrical solo at the start of the second movement of the test-piece Pageantry by Herbert Howells. We are all absolutely delighted for Ailsa and this reward for all her hard work. Team Tuba all won the award for Best Basses for the third time – a brilliant hat trick of picking up the trophy bearing the name of a Cory legend, John Trotman. Well done to Simon Howell, Kate James, Rob Nicholson and Tim Evans.
Although Cory, as defending champion, is already qualified for the National Finals in October, this latest win now qualifies the band to represent Wales at the European Brass Band Championships in Utrecht in Holland in 2018. Next up the band is looking forward to defending this title next month in Ostend in Belgium.
Congratulations too to fellow National Finalists Tredegar and Tongwynlais – see you in London!
Results:
Championship Section:
Test Piece: Test Piece: 'Pageantry' (Herbert Howells)
Adjudicators: Derek Broadbent and Mike Kilroy
1. Cory (Philip Harper)*
2. Tredegar (Ian Porthouse)**
3. Tongwynlais Temperance (Michael Fowles)**
4. City of Cardiff (Melingriffith) (Nigel Seaman)
5. Llywdcoed (Chris Turner)
6. Burry Port Town (Tom Davoren)
7. Northop (Paul Hughes)
8. Goodwick (Matthew Jenkins)
Best Instrumentalist: Ailsa Russell (horn) Cory
Best Basses: Cory
*Cory pre-qualified for National Final and will represent Wales at the 2018 European Championships
**Qualified for the National Finals