Day 1 – The Red and Gold Dragon of Cory Land In Korea
And we're off …
We started our Korean adventure at 13:15, with members hopping on the bus ready for the trip to the busy Heathrow airport, London.
After making several stops to pick up other band members, we arrived at Heathrow airport having completed the shortest leg of today's journey (151 miles).
As expected, the airport was as bustling as ever and we were informed there would be a wait before we could check in for our flights. Thankfully, this gave us a chance to enjoy a few 'airport beers' as we looked ahead with excitement for the trip (excluding the incoming 13-hour flight …)
Once we had checked in, security was speedy and stress-free and many members enjoyed (you guessed it) some more airport beers, whilst others took the chance to check out the shops and duty-free.
The flight …
Once we had boarded the plane at about 20:30, we were waiting (with some trepidation) as to what our evening flight meal would be but were easily distracted by the entertainment system with several choices of music, games and movies to choose from to pass the time.
And the moment of truth, our first in-flight meal.
Well, it's safe to say that no one went hungry, with a choice of pork and rice, or a local Korean dish, everyone seemed to enjoy their food. Including another meal when we were closer to landing in Seoul and a supply of tea and coffee throughout the flight.
After our long overnight flight (for us on UK time), we landed safely and began the rigorous immigration and COVID procedures in place for arrivals at airports.
We all got through immigration without any hiccups, and everyone (miraculously) seemed to fill in all the correct paperwork correctly meaning we were able to meet our lovely tour guide JK as we boarded another bus to take us to Gimpo airport for our final transfer to the beautiful Jeju Island.
After another check-in procedure, we were treated to more local Korean food at a restaurant, including pork cutlets, katsu curry and soup-like dishes, all with varying degrees of spice!
A short but turbulent flight meant we finally arrived in Jeju and made a short bus journey to our home for the first part of our tour receiving a warm welcome as we checked into our hotel!
Several memes ventured out for delicious 'beer and chicken' at a local bar before hitting the hay for the night with a level of confused jet lag!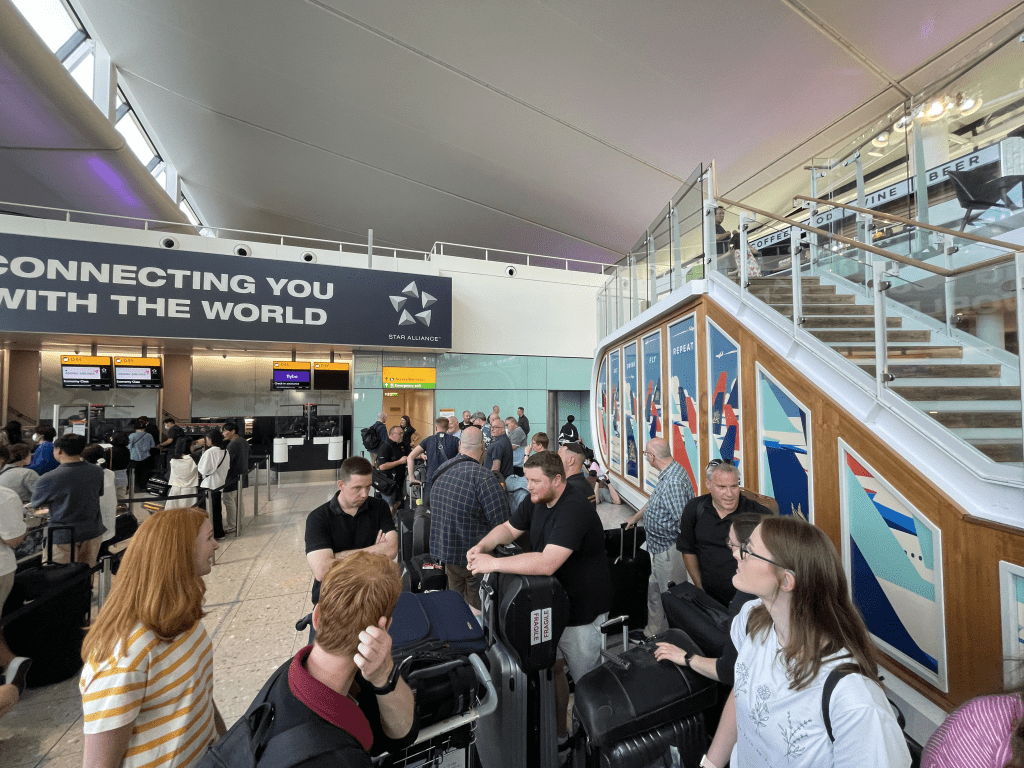 Day 2 – Waking Up In Paradise
As morning broke on our second day in Korea, we were treated to some extreme heat (something we soon learned we would have to get used to), as well as quite simply some brutal humidity.  After a traditional breakfast, our first task was for all members to take a mandatory PCR test at a local COVID centre. 
This became quite an ordeal, having to withstand extreme temperatures of over 32 degrees C whilst donning masks, gloves and hazmat suits for our tests.
Once our 'brain scans' were complete (nicknamed due to the extremely forceful nose swab) we headed back to the hotel for a rest before travelling to the Jeju Arts Centre for our very first concert of the tour!
The first concert instalment of our tour went down an absolute storm, with the audience whooping and cheering through the performance, as the band performed a mixture of timeless classics, and modern pieces such as 'La Fiesta', 'Crown Imperial' and 'Only In Sleep'. 
The band were conducted by our musical consultant Nigel Seaman, due to the fact, that our Musical Director Philip Harper sadly tested positive for COVID the day before he was due to travel!
We are all so grateful that Nigel, who was part of our tour party anyway, was able to step in and lead the band on our Korean tour.  Nigel has already had a very successful conducting career and is a great person to have with us on our tour – thanks, Nigel!
Once we returned to base after the concert, almost every member of the band ventured to another local bar to once again enjoy their chicken and beer all fuelled by the energy from our first concert of the tour!
Day 3 – The Show Goes On

Day 3 started with the luxury of a free day (excluding our eagerly awaited evening concert at Jeju Culture & Arts Centre), fueled by a hearty breakfast many members took the option to explore the island, visit the beach or catch up on sleep!
As the evening approached the band reconvened and made the short bus journey to the Jeju Culture & Arts Centre, another beautiful venue being used as part of the wind festival going on out here.  
Our programme for this concert was slightly different with the additions of 'Brass Machine', 'Piper Of Dundee', 'Rossini's The Italian Girl in Algiers' and highlights from our 2021 Brass in  Concert Programme 'Treasure Island' featuring Glyn Williams in 'The Hispaniola'. 
Once again, our audience (and the band) were in fine form again and all our musical endeavours were greatly received by the audience and festival organising members alike.
One highlight from both our concerts so far is the inclusion of an encore entitled 'Blue Night on Jeju Island' which turns out to be an absolute classic on the island and one that causes the audience to jump and scream in excitement!
After the concert, we returned to the bar from the first night to try some more spicy chicken and beer, as well as meet several members of the festival organising party, and other Korean musical legends!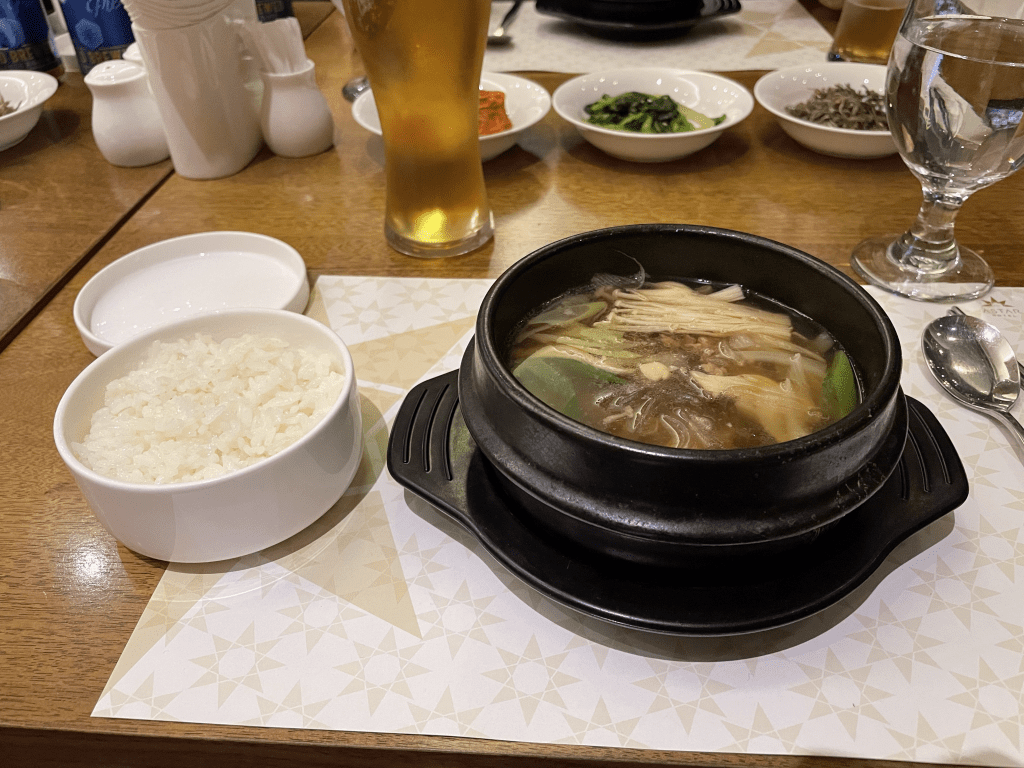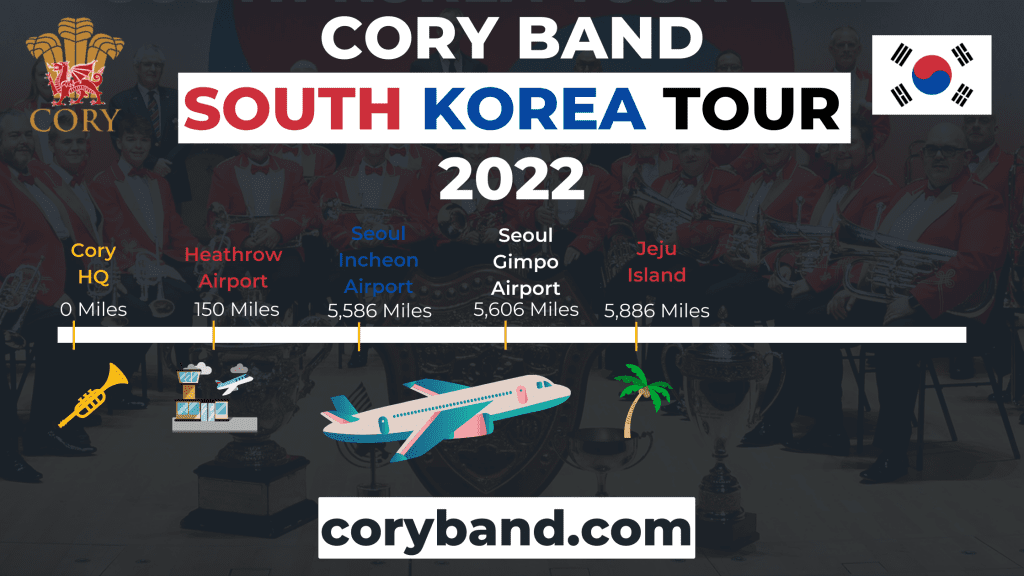 Stay tuned for our next instalment coming to you VERY SOON!
Or check out our socials below …