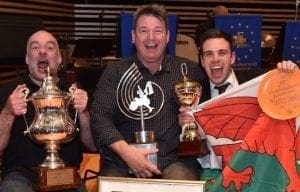 Cory Band is advertising for a 2nd trombone player.
Musical Director Philip Harper explained more: "As well as our star end-chair players, at Cory Band we have always recognised the importance of having enormous strength-in-depth along the lines. We have not had a full-time vacancy in our trombone section for eight years, but Gareth Robinson, our current 2nd trombone, has decided that the time is right to move on and we'll be extremely sad to see him go. As well as a valued team player within Cory, he was a wonderful principal trombone during Chris Thomas's sabbatical last year.
"So, we are looking for an equally brilliant 2nd Trombone player – someone who is good all round with a great range and capacity to blend within one of the most impactful sections of the band. Championship Section experience is a must, and the position would equally suit a highly experienced player with many years under their belt, or a younger player interested in learning from Chris Thomas (principal) and Andrew Williams (bass), two of the most respected players in the business.
"One of the main challenges to Cory Band's recruitment is where we are – a bit cut off from the world up in Treorchy in the Rhondda Valley. This is about 40 minutes north of Cardiff, although we have members from as far afield as Bristol and Pembrokeshire. However, we would be pleased to assist with relocation for any successful auditionee who has the ambition to play with the World's Number One brass band.
"We have a full diary including all the major UK competitions, overseas concerts across Europe and in the USA and of course an invitation to the European Contest in Switzerland in 2019. If you aspire to play with the band which has been the best in the world for 11 consecutive years, this could be your chance!
"We will be auditioning in May and June and hope to have the successful candidate in place, after a trial period, for the British Open contest in September."
The band is inviting expressions of interest from all suitable players, and anyone interested should contact Philip Harper at philip@philipharper.co.uk, or on 07780 610092.