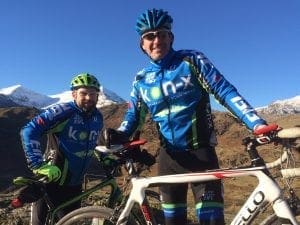 Well, it seemed like a good idea at the time. "I'd like to cycle from Wales to Belgium to help raise money for the band to defend its title!" proclaimed our Band President Morgan Jones to me towards the end of 2016. "It's nearly 400 miles, so it will take me three days, and I'll arrive in time for the competition," he continued merrily, a wide grin on his face. Wow, I thought. This sounds like a big undertaking and a real hands-on approach from the figurehead of any organisation. Suddenly I began to feel somewhat inadequate in my commitment to the cause. "Well, I'll join you then!" I heard myself blurting out, and before I knew it I was signed up to cycle the first leg of this mammoth ride at the end of April.
Actually, of course I couldn't commit to cycle all the way to Belgium over the course of three days, as I will be in the Rhondda rehearsing Cory for its title defence (which also doubles as a pretty watertight excuse too). What I am able to offer however is to ride from my house in Gloucester to the Cory Band room – a not so trifling distance of 84 miles – in time for rehearsal on Tuesday 25 April, handing the baton symbolically to Morgan who will then take off for Ostend in the morning, meeting us there at the start of the Own-Choice part of the competition on Friday afternoon. Nothing can go wrong!
We are both in training at the moment. His home is in a truly beautiful part of North West Wales, and the photos I see him posting of his epic sessions are simply breath-taking. Whilst perusing the images of his latest odyssey on my phone recently, my nine-year-old daughter leaned over my shoulder and exclaimed: "Is that a volcano, Daddy?" She wasn't far wrong! I too have some lovely countryside to explore around Gloucestershire and am increasing my distance all the time, whilst also catching up with my favourite podcasts like Desert Island Discs, and listening to some classic albums – I've recently done Revolver by the Beatles and The Dark Side of the Moon by Pink Floyd for example.
But, I hear you ask, why all this effort? Surely Cory Band has been travelling to the Europeans for many years and not relying on sponsored cycle rides to get there? This is true, although also part of the reason! 2017 will be the 17th consecutive appearance by Cory at the European competition and, our Treasurer reliably informs me, the bill for this one weekend can sometimes top £25K. If that's a figure you're needing to find every year for 17 years just to cover one weekend, that becomes a big drain on resources. Cory's headline sponsorship deal ended in 2012, since when our appearance at the European has been in jeopardy on more than one occasion, for purely financial reasons.
And this is where we feel we need to try harder than the norm. Most of the bands we will compete against in Belgium will be in receipt of some sort of subsidy from a National Body to help them tackle the enormous cost of representing their country in the competition: The Norwegian band gets about £4K; the Swedes get £3.5K; the English received £5K, specifically to commission a new piece providing a legacy (although that is set to end this year); the Dutch and Swiss have to submit a budget which is evaluated and, once approved, receive about 10% of the total;. The Welsh representative receives… hang on, I'll just have a quick count up… Oh. Nothing. Zip. Nada. Zilch.
To be fair, there is no well-resourced Welsh National banding body that could even offer a subsidy, and to be accurate, Tredegar Band is the Welsh representative this year – Cory is there by virtue of being defending champion. In recent years we have appealed through face-to-face meetings and official written approaches to all sorts of national, cultural and governmental organisations to help us make a dent in the huge bill, but so far there has been no-one out there.
And so we have taken matters into our own hands – or should I say legs! If you have enjoyed watching or listening to Cory Band in the last few years, even if you're not Welsh (I'm not) then please consider helping our cause. Imagine if there was a successful title defence – you would be able to say you played a part!
You can make a donation by visiting www.justgiving.com/fundraising/coryeuroscycle