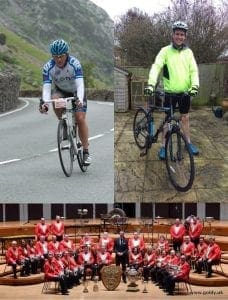 Cory Band is preparing to travel to Ostend in Belgium on 28 April where it will fiercely defend its title of European Champion. This is the 17th consecutive appearance for the band at the competition – a modern-day record of which the band is proud, but one which also brings with it a headache.
Musical Director Philip Harper explains: "Although the unbroken appearance is testament to the band's consistency, getting 35 people overseas for a three-night trip takes its toll on the band finances and, now that the band has no major cash sponsor, this tends to then cast a financial shadow over the entire rest of the year whilst we pay off all the bills! Unlike many of the other participant bands, representatives from Wales receive no financial help or subsidy whatsoever from any national bodies or organisations, and not through want of asking, I have to say! We feel that we are being good ambassadors for the region and the country, having won it six times already, but still it remains the band's responsibility to foot the entire bill year after year when other competitors receive thousands of pounds of support from national bodies.
"Anyway, this year we have decided to take matters into our own hands! Our Band President Morgan Jones has always been 'hands-on' with the band, and he and I knew from the start of our relationship that we had a shared hobby in cycling. It was his idea to cycle nearly 400 miles from Wales to Ostend arriving in time for the competition, and raising money to get the band there at the same time. I then decided I could also help by cycling the trifling 80 miles to band practice one night in the lead-up to competition, when I could 'pass the baton' as it were to Morgan who would then continue to Belgium. And this is what we are going to do!
"The first leg will be Gloucester to Treorchy which I will ride on Tuesday 25 April. The band will be hard at work in final preparation for the competition by then and, assuming I can still stand up (!) I will take rehearsal that evening. In the morning on 26 April, Morgan and three colleagues from his cycling club, Clwb Beicio'r Eifl (CBE) – Arwel Griffiths, Paul Williams, Stephen Jones – will leave South Wales, travelling to Dover to board a ferry, and crossing into France and on to Belgium in time for the start of the competition on Friday 28 April.
"We are hoping that this 'sponsored ride' will help to relieve some of the financial pressure this trip will bring to the band so that we can then concentrate on our main activities of developing brass music as an artform, growing audiences for brass bands, and providing opportunities for creative expression for our members and other artists.
"Please visit our Just Giving page to make a donation of any value. We hope that you will then be able to follow our progress through training – which has started already – and then the ride itself on social media."
The Just Giving page is accessible at this address https://www.justgiving.com/fundraising/coryeuroscycle or just search for Cory Band from the main Just Giving website.