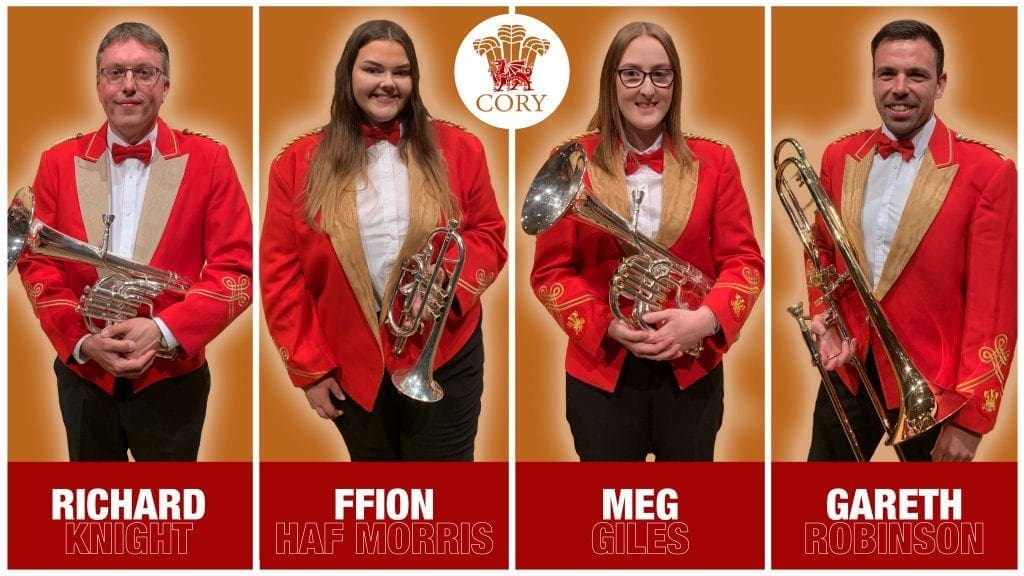 Cory Band has recently welcomed four new players to the ranks, some permanently, some temporarily. Ffion Haf Morris joins the cornet section, Megan Giles joins the horn section, and Richard Knight and Gareth Robinson both return to the band on horn and trombone respectively.
Musical Director Philip Harper explained: "Like most bands, Cory has been enjoying a return to banding activities after more than a year of enforced silence, and we are now regularly rehearsing under strict covid-compliant conditions every week. The long break has however necessitated some new personnel.
Firstly, our longest-serving member, Phill Harris, has decided to hang up his cornet having joined Cory Band back in 1980. Phill's service to the band has been absolutely second-to-none and I was so sad to hear of his decision during the lockdown. We haven't been able to properly say goodbye to him yet, but we certainly will be doing as soon as we're allowed, so look out for some fuller tributes and retrospectives in the coming weeks. His presence in the cornet section for over 40 years will be sorely missed!
To replace him we welcome Ffion Haf Morris, a brilliant young talent who has just graduated from the Royal Welsh College of Music and Drama (RWMCD) and joins from Llwydcoed Band. I also know her playing from the National Youth Brass Band of Wales and I'm delighted to bring someone with her qualities of playing and personality into Cory Band.
Next, our 2nd horn player since 2018 Karen Fletcher has had a change of circumstances during the pandemic, and has had to relinquish her position with the band. Megan Giles will be our new 2nd horn player – a second year student at RWCMD and originally from Wantage Band in Oxfordshire, although most recently playing with City of Cardiff. Her audition was fantastic and I think she'll do really well with Cory Band in the years ahead.
Finally, we have two members who, because of the pandemic, have had to move away from South Wales. Both will return, but to keep their seats warm until later this year we welcome back Richard Knight on horn and Gareth Robinson on trombone.
We all just can't wait to get started again, we're raring to go, and these new players will help us relaunch Cory Band post-pandemic."