Mr Tuba, south Wales based Tuba specialist has recently agreed to become the very first seat sponsor for the World's number one brass band Cory.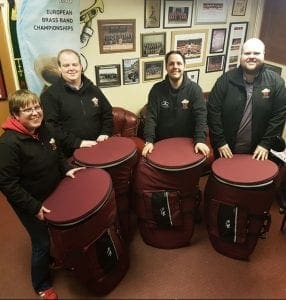 In a fresh approach to developing further partnerships with Cory, the band is introducing seat sponsorship which gives more companies' the opportunity to benefit from the band's global appeal and reach, especially through their social media channels and extensive concert appearances.
Having been in business since 1982, Mark Carter founder and owner of Mr Tuba has developed a relationship with Simon Howell, Principal Eb Bass at Cory and as a result has decided to sponsor the Principal Eb Bass position and all the work that Simon gets involved in.
Being the generous friend that Simon is, he decided to share the love with 'Team Tuba' at Cory and as a result has chosen four quality Gig Bags from Mr Tuba. The Gig Bags had their first outing at the recent Welsh Regional Contest and the Bass section made a massive contribution to the band's winning performance and in the process were awarded the John Trotman Memorial Trophy for the Best Bass Section for the fourth consecutive year.
Neil Blockley, Band Manager for Cory commented "We are delighted to welcome Mr Tuba as our very first Seat Sponsor and we welcome enquiries from other likeminded businesses who are interested in working in partnership with us. We have a range of existing sponsors and partners who currently work with us and we really appreciate their commitment to our cause.
Mark Carter commented "It is a delight for me to support the current Welsh Champions and World number one band in this way. The quality and consistency of their performances over more than a decade resonates with our company and I have admired Simon Howell's playing for many years and so it is thrilling for me to now support them.
With a full diary for 2018 and beyond including overseas performances and some exciting new projects to be announced shortly where could Cory take your business in the future?
To discuss further please contact Neil Blockley by email neil@coryband.com