"Cory Band is very much one big family. We are inspired by each other, we are working with friends and there are strong players on every seat"
Making a connection that shines through in every live performance
The vast majority of musicians in The Cory Band are passionate amateurs who devote a considerable amount of their free time to perfecting every piece they perform. The band rehearses twice a week in Treorchy and combines a wealth of diverse experience to achieve a superb standard in every concert.
Some players have been involved for decades, others for a much shorter time, but everyone brings a dedication and an enthusiasm to playing in and performing with the band that makes it such a formidable and successful musical tour de force.
"I do it because I love both the playing and the camaraderie. I feel compelled to keep doing it and enjoy that the band has a diverse and dynamic repertoire and is successful at establishing a rapport with their audiences – making a connection that only comes with a live performance."
Band Members
Cory Band is a wonderfully diverse group of musicians, from across the UK, who come together to offer audiences a spectacular range of Brass Band Music.
Band Members are volunteers
Every band member makes a highly committed and significant contribution. This page lists all the Cory Band Members and profiles a select few of the band; focusing on what motivates them to give their time and play their music, highlighting their own and reflecting their colleague's views on what they get from the experience and what Cory offers, both to concert audiences and in its professional workshops.
Philip was appointed Musical Director of Cory Band in 2012 and brought with him a wealth of experience as a conductor, composer and tenor horn player.
He took part in the Brass Final of the BBC's Young Musician of the Year in 1991 and following a Master's Degree in Composition, went on to enjoy a very successful performing career.
Philip has won wide acclaim for his entertaining concert performances, with one Cory Band member dubbing him a "raconteur" who successfully addresses and engages the audience both in performance and during the interval.
Philip describes Cory's performances as like a fabulous journey from one unique destination to another – whether gloriously vibrant or exquisitely tranquil – you just need to sit back and enjoy the ride.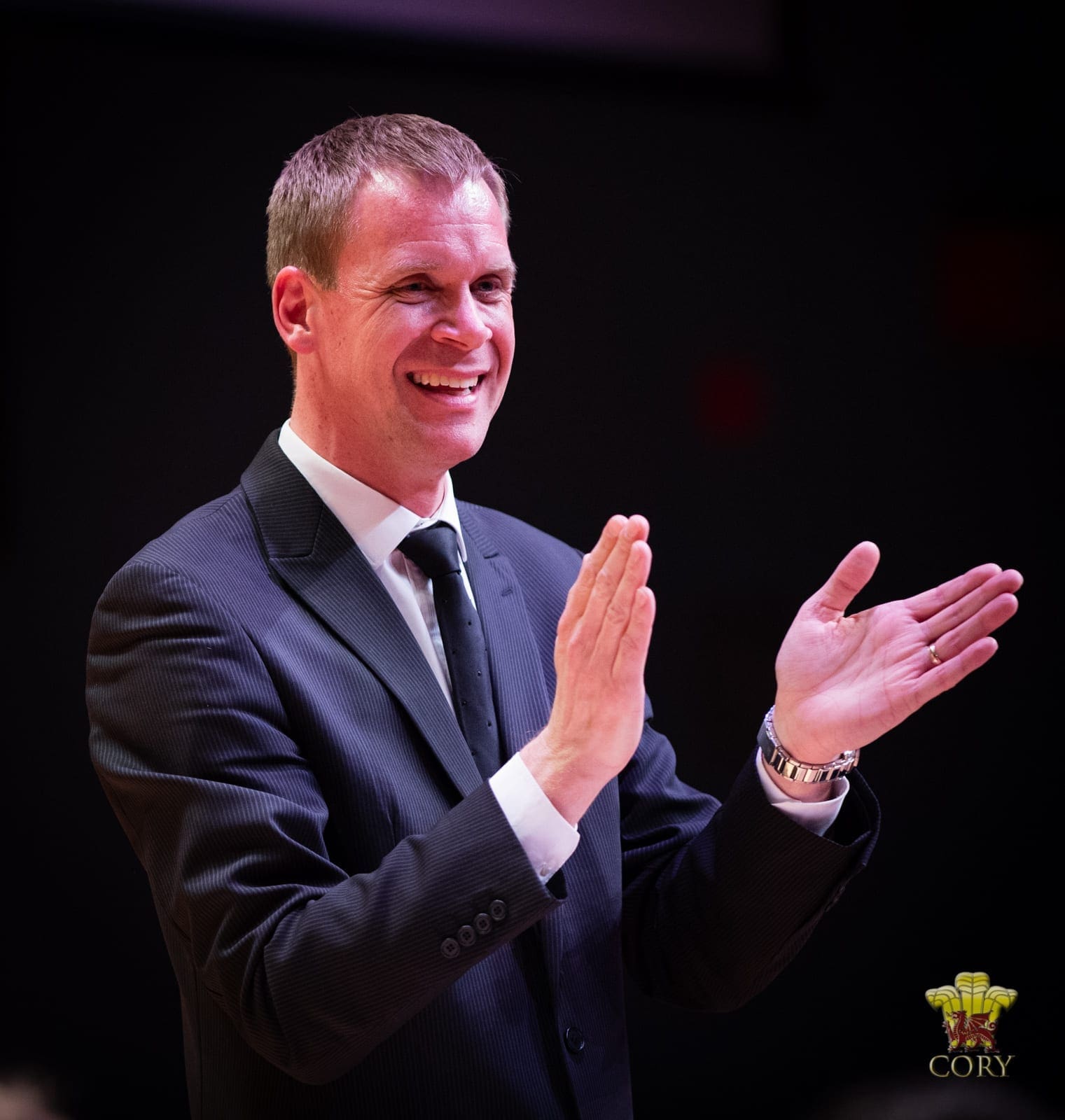 A Selection of our Members
Gareth Johnson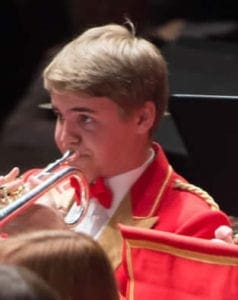 Solo Cornet
Gareth is from Durham in the North East of England – a self-confessed Sunderland AFC supporter "even though they lose most matches!" He is studying at the Royal Welsh College of Music and Drama in Cardiff, having first picked up the cornet aged only six.
At the age of 14 Gareth began having lessons with Richard Marshall (principal cornet of Black Dyke Band) and was invited to join the region's leading band, the Reg Vardy Band. He was swiftly promoted to assistant principal cornet. In his own words: "I've been influenced and inspired by lots of musicians: my teacher Richard Marshall, cornet legend James Shepherd, and the amazing trumpeter Wynton Marsalis."
In September 2014, reconnecting with Welsh ancestry, Gareth commenced his studies at the Royal Welsh College of Music and Drama and was immediately accepted into the Cory Band.
"The musical highlight of my life so far was winning the 2016 European Championships with Cory in Lille. I can remember the bar we were in erupting when the results came through on social media and the celebrations starting."
Gareth hopes to go on to postgraduate study. "To me, being in Cory means working hard as a team to create amazing musical performances."
Helen Williams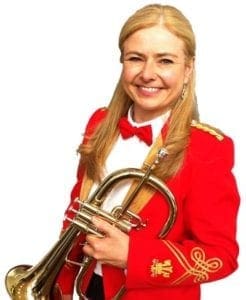 Flugel Horn
It all started for Helen in the summer of 1975, when she first picked up a cornet. Since then she has established herself as one of the band world's finest players. "Times are very different now, but when I was growing up girls didn't play in the 'top' brass bands so there was always a ceiling on what I could hope to achieve." Well, look at you now, Helen!
Amongst Helen's many achievements and accolades in the world of brass, she was the first (and still only) female principal cornet to win the oldest competition, the British Open, in 1996 with the Marple Band from Greater Manchester, where she grew up. On that day she also won the award for the Best Soloist, a feat she repeated 20 years later with the Cory Band, now on flugel horn.
Helen was Flugel Horn Soloist with the famous Foden's Band from Sandbach in Cheshire for over 15 years from 1999, winning many competitions, including the elusive 'Double' of both British Open and Nationals in 2012.
In 2015 Helen, along with her husband Glyn who plays principal euphonium, relocated from North West England to the South Wales Valleys to join the Cory Band, and now splits her time between working for Kapitol Promotions at the Brass Band Players Registry and involvement with the Cory Academy. Since arriving at Cory, Helen has helped the band to the unprecedented Grand Slam of 2016, winning Best Soloist awards at both Autumn majors – the Open and the Nationals.
"After considering giving up my playing when I reached a significant birthday in 2015, I am very grateful to Cory Band for having faith in me and helping me find my mojo, resulting in 2016 being my most successful year to date. Winning the Europeans was very sweet. It was a trophy that had eluded me, and one I had become resigned to believing would never be ticked off my list of achievements."
Andrew Williams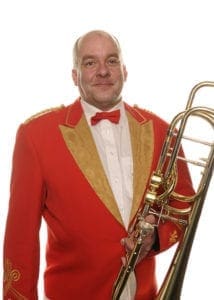 Bass Trombone
Andrew began to play the Bass Trombone at St. Cenydd Comprehensive School under the watchful eye of ex Joe Loss Bass Trombonist, Phillip Dando. Andrew's natural ability and Phillip's expert teaching combined well and quick progress followed. At the age of 13, Andrew joined the BTM Band. Two years later, he entered the National Youth Brass Band of Wales and made such remarkable progress that he was awarded the Norman's Prize for the player showing the most promise (in a band that contained many future professional players).
Andrew enjoyed many concert and contest successes with BTM and also had a short period helping out at the Sun Life Band. All this came to a halt in 1994, when he completely gave up playing in order to concentrate on developing his career in Insurance Risk Assessment.
Having done that, he returned to banding in 1998 by joining the 'Just Rentals' Cory Band and hasn't looked back! His skills & experience are varied and wide-ranging and as well as his Cory commitments, he is Bass Trombonist with the Byron Jones Big Band and is in demand at many provincial orchestras.
Cory Band Personnel
Musical Director
Philip Harper
Principal Cornet
Tom Hutchinson
Soprano Cornet
Ian Roberts
Cornets
Dai Hale
Gareth Johnson
Owain Llestyn
Hannah Plumridge
Neil Blockley
Taddy Evans
Rhys Evans
Daniel Sharpe
Flugel Horn
Helen Williams
Tenor Horns
Ailsa Russell
Richard Knight
Eve Nixon
Baritones
Susan Thomas
Joel Collier
Trombones
Christopher Thomas
Gareth Robinson
Andrew Williams
Euphoniums
Glyn Williams
Dan Thomas
Eb Basses
Tommy Tynan
Kate James
Bb Basses
Rob Nicholson
Timothy Evans
Percussion
Steve Jones
Ali Woodman


Matt Roche

Band Manager
Neil Blockley
President
Morgan Jones
Chairman
John Southcombe
Contest Secretary
Austin Davies
Musical Consultant
Nigel Seaman
Librarian
Gwyn Thomas
Website Photographers
Ian Clowes
John Southcombe
Chris Howley
Social Media
Ali Woodman
Read more. Continue to the Cory Band next chapter
Cory Band Competes in both National and International Brass Band Competitions.
Concerts
A Live Performance is life-affirming! View a list of performances and events, buy tickets and find out more about what's involved in a Cory concert.
Our Shop
Pick up our latest CD, scour the archives of our back catalogue, or help promote or support the Cory brand with our clothing and merchandise selection.
News
There's always a lot going on throughout the year with Cory Band – contest reports, new players or special projects. Keep up to date and get to know the band more through our News section.
The Academy
Our 'grass-roots' grows and harnesses young talent with a drive for quality. But most importantly, we provide the opportunity to learn new skills in a fun way.
Meet The Music Makers
The vast majority of musicians in The Cory Band are passionate amateurs who devote a considerable amount of their free time to perfecting every piece they perform.
How To Support Us
Keeping an organisation like ourselves at the top of our game and supporting musical development is a lot of hard work. Become a Friend of Cory Band and help us thrive and discover exclusive benefits.