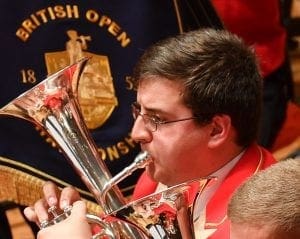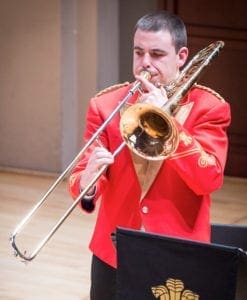 At the recent European Championships in Utrecht Cory Band said a fond farewell to two of its members – Lee Drew on 2nd horn and Gareth Robinson on 2nd trombone.
Lee joined the horn section partway through 2016, immediately helping the band to win the British Open, the Nationals and Brass in Concert. He also won two Welsh Regionals with Cory, as well as the recent Band Cymru competition. With his impending fatherhood, he has decided to step away from playing for the moment to concentrate on domestic matters. Musical Director Philip Harper said: "It took a bit of persuasion to get Lee to join the band, but he has been nothing short of wonderful both in terms of his huge sound and musicality as a player, as well as his infectious personality and total commitment as a person. We wish him and his wife Sian all the best in the coming months and years."
Replacing Lee will be Karen Fletcher, solo horn with Tylorstown Band until the recent Spring Festival in Blackpool.
Gareth Robinson has been with Cory Band for nearly nine years, winning every major brass band competition in that time, including the unprecedented Grand Slam in 2016, as well as participating in tours to Australia and the USA, and concerts all over the UK and Europe.
Musical Director Philip Harper commented: "It's difficult to summarise just what a fantastic contribution to Cory Band Gareth has made in nearly a decade. He has been the model bandsman, totally committed to all projects, and his playing has been out of this world. He was a fabulous stand-in when current principal Chris Thomas was working away for a year, and I have found him to be an utterly dependable and unfailingly positive member of the team. We will miss him, although he will be right near the top of our dep list, so I hope we will stay in close touch."
The band has begun advertising for a new 2nd trombone player.