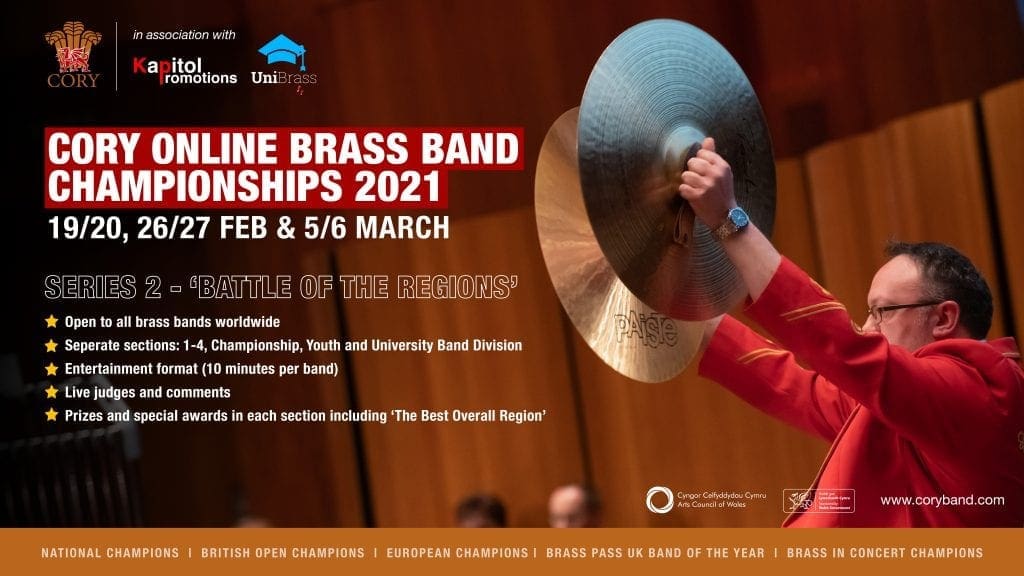 ENTRIES NOW CLOSED
Cory Band is pleased to announce that the next round of its Online Championships will take part on 19/20, 26/27 & 5/6/7 March 2021.
After the success of the recent competition and the return of stricter lockdown conditions in a number of countries and regions, Cory Band is keen to provide a further opportunity for bands to compete, as well as to provide motivation to all bands to keep going through the winter.
Much of the competition will be run along the same lines as the first edition: separate divisions based on each band's usual playing level; each band given 10 minutes to come up with an entertainment programme which can be recorded according to each country or region's government guidelines; no player registration but an appeal to follow the 'spirit of banding'; and entrants judged by a live panel of experts across programmes broadcast on YouTube.
However, there are also some new features. Series 2 of the competition will be called 'The Battle of the Regions' and, with the loss of at least three major contest series in the early part of next year (the UK Regionals, the Norwegian Nationals, and UniBrass) Cory Band hopes that this additional level of friendly rivalry will provide an extra angle to the competition. Competing bands will automatically join their local team – the eight regions of Great Britain, plus Northern Ireland and The Republic of Ireland, a separate team for Norway, and one for 'The Rest of the World' (unless another country has a very strong representation and needs a team for itself!) There will be a new award, the Best Regional Piece Award, for the band which features the best music celebrating their region or area. Bands are encouraged to sell themselves and their local customs, traditions, history and personalities.
Additionally there will be a separate University Division, and a Youth Section.
Cory Band is delighted to be able to partner with both Kapitol Promotions (promoter of the UK Nationals) and UniBrass in presenting 'The Battle of the Regions'. 
The closing date for video entries will be around the 12th February 2021 (to be confirmed). 

Potential sponsors are also welcomed. The last contest had 2,000 live viewers and nearly 200,000 overall viewers, so if you'd like your name to be associated with the Cory Online Brass Band Championships, please get in touch.
Places are limited and in the event that the contest is oversubscribed a draw will take place to determine places.
The Rules
Bands will be split into Sections 1-4, plus Championship, UniBrass and Youth Band Sections. In UniBrass and Youth Sections there may be different classifications of bands – see below.


When entering please select the section you wish to enter relevant to your the grading that you band will be in 2021 within your own country.


If entering the UniBrass Section, please indicate if you are a Trophy (Highest) or Shield (Lower) standard band. Prizes will be awarded for the best bands in each category but will be broadcast as one section.


If entering the Youth Section please indicate if you are an Advanced, Intermediate or Beginner standard band. Prizes will be awarded for the best bands in each category but will be broadcast as one section.


Please note – we reserve the right to reallocate ungraded bands should it become evident that their standard is not comparable to others in the section they choose to enter.


Player registration is not required. Please compete within the spirit of banding though and avoid borrowing superior players from other bands just for the contest. It's fine to borrow players of similar standard though.


Bands in the Championship, 1st, 2nd 3rd and 4th sections should limit themselves to a maximum of 35 musicians including percussion, and any other instrumentalists or vocalists you wish to use.


There is no limit on the number of musicians in the University and Youth sections. Youth bands can also use up to 6 players over the age of 18.


Each band is encouraged to submit up to a maximum of 10 minutes of video performances as a mini-programme. This should include introductions and announcements. Any major breaches of the time limit will be penalised and not broadcast. We would suggest 3 separate short videos to achieve this, but it's up to each band how they present their programme. The contest is an entertainment style contest so it provides your band with the opportunity to be as creative as you like with your programme. There are no restrictions on the pieces or styles you perform – that's entirely up to you!


It is the responsibility of the competing bands to ensure they have the necessary copyright permissions for the music chosen to perform.


The videos can be made of individual players performing, or groups, or a full band. We are aware that different countries will allow different types of activity (for example gatherings of people) at different times. Keeping within your own country's rules is part of the challenge, which may be bigger in some countries than others! This will be taken into account by our judges, so countries where bands are not allowed to meet en masse will not be penalised because of these limitations. As long as you make your submission by video, it doesn't matter how many of you are physically together.


If you have already created distance banding videos that have been shared across social media, we are happy for you to use them in your programme. However, if you entered the Cory Online 2020 Championships, please do not submit pieces your band performed in that contest. It is our intention to keep the 2021 contest as fresh as possible.


Each band will be offered the services of a Cory Band Mentor to guide them through the process, advising on everything from programme creation and recording a video, to performing your parts to maximum potential. This is an optional component, so please indicate your desire to take up this offer or not so we can assess supply and demand.


Videos will be required to be submitted by around 12th February (date to be confirmed but will not be before this). They will need to be 1080p quality and 'ready to play'. We are unfortunately unable to offer video editing services. Full technical specifications, tips and an upload area will be made available upon confirmation of your place.


IMPORANT – Please do not submit videos of your band miming to studio-recorded CDs. This will be immediately obvious and will result in bands not being included in the live broadcast.

It is entirely permitted however to record your audio and video separately in whatever way you can and sync it together into a finished video.In our experience this is a very effective technique for producing distance videos.
Each section will be broadcast and judged separately


Adjudication will be open, and judged by Cory personnel. We plan on having some live comments immediately after each band from the panel with their initial thoughts, and bands will be judged on:
The Adjudicator's decisions are final and no correspondence will be entered into


There will be Special Awards in each section as follows:

Instrumental awards for every section including percussion

Best Regional Piece Award for the band which includes the best piece which represents their particular region



Full results will be available for each section after the event.