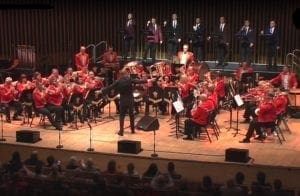 After a hugely successful collaboration in 2017, The World's Number-one-ranked Brass Band, the Cory Band, and the male vocal group sensation Only Men Aloud have announced that they will tour the cinematic-inspired joint concert at three venues around the UK in 2019.
Of the collaboration, Cory Band's Artistic Director Philip Harper commented: "There has always been a huge following for the brass and voices combination – it's a pairing that really works and has been part of the UK's musical heritage for many generations. We will be presenting the best of this much-loved sound in an exciting concert which features some of the greatest music from your favourite movies across the ages. As you'd expect, there is much from the pen of John Williams, including main themes from both Star Wars and Indiana Jones, but also from Golden Era movies such as Puttin' on the Ritz and Singing in the Rain, as well as family favourites The Lion King, The Incredibles and Mamma Mia!"
Cory Band has been ranked number one in the world for a remarkable 12 years and in November 2018 was the winner of the Brass in Concert competition, making it officially 'the most entertaining band in the world' too. In 2018 Only Men Aloud celebrated its tenth anniversary since rising to fame as the winner of the BBC's Last Choir Standing competition in 2008.
Philip continued: "Both groups are passionate about their music-making, and in combination make a formidable pairing. Tickets to our show would make a wonderful Christmas present, so if you want to join us for a thoroughly uplifting and inspiring concert, suitable for all the family, we would love to see you on one of our tour dates in 2019."
Tickets are now available for all concerts in the tour as follows, please click below.
Sunday 3 March, 3.00pm, Bridgewater Hall, Manchester
Saturday 25 May, 7.30pm, St David's Hall, Cardiff