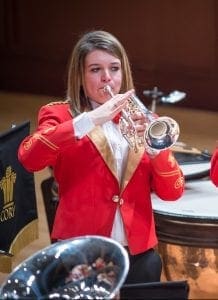 Repiano cornettist, Hannah Plumridge has won the final of the Yamaha Music Foundation of Europe 2019 Scholarship. This year, the award is for Trumpet students.
The YMFE is a European organisation dedicated to music popularisation and education. It is a non-profit making charity registered with the Charity Commission. The scholarship scheme was set up in 1990 to assist talented young musicians under the age of 25 with the costs of musical education at conservatoire and university level, in the country of their studies. The foundation has now awarded scholarships worth well over 1 Million Euros to over 900 outstanding young musicians across Europe.
Hannah overcame some still opposition to win the £2000 prize, which will be used to help with the funding required for the further study needed to launch her professional performing career.