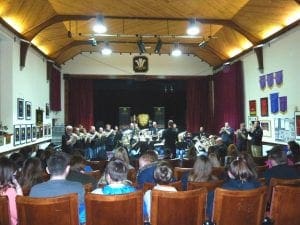 Cory Band has embarked upon a project in which it will collaborate with the Rhymney Comprehensive School over a 15 week period, at the culmination of which there will be a concert given by the band at the school, incorporating the creative work of about 120 students.
The project, funded by Arts Council Wales, is part of Cory's ambitious community objectives, and will see tutors from the band visiting the school weekly to deliver brass, percussion and composition tuition to students who would otherwise not have any exposure to music in this way. Glyn Williams, Steve Jones and Christopher Bond have already started their sessions in the school, amidst much excitement.
The project was launched on Monday 6 March when Rhymney Head of Music Michelle Diamond and other staff accompanied about 60 pupils on two coaches to the Cory bandroom, where Musical Director Philip Harper presented a short concert which not only demonstrated the full power of the Cory Band, but also aimed to contextualise the project, touching upon the history of bands in the region and their links to the surrounding hills and valleys with its rich abundance of coal.
Cory Musical Director Philip Harper commented: "It was great to have so many Year 8 pupils in the bandroom last week and we hope it was a really exciting introduction to this project with the Rhymney Comprehensive School. One of our key community objectives is to raise awareness of brass bands locally, and with the expert tutors now in school on a weekly basis, we hope some of our passion for brass will rub off!"
The school has a very famous graduate in the shape of Dan Thomas, now principal euphonium of Black Dyke, and his brother Owen is still a pupil.
The final concert to this project will take place on Thursday 29 June, and will be open to the public.