On 18th November in what was our final contest of the year, we were thrilled to once again become Brass in Concert Champions – for the fifth time in seven years!
Our Musical Director Philip Harper had fashioned a programme which retold the story of Romeo & Juliet, the outcome of which saw Cory leading the field by a remarkable 16 points. If you'd like to see the Romeo and Juliet programme which everyone is talking about, come along to one of our upcoming concerts!
2018 has been another hugely successful year for Cory. Out of six competitions entered we have won four, and finished runner-up at the other two.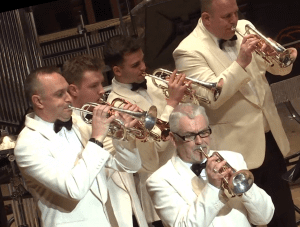 Results from Brass in Concert:
Nick Grace & Rieks van der Velde (Music Quality of Performance)
Chris King (Programme Content)
Jeremy Wise & Terry Carter (Entertainment & Presentation)
Owen Farr (Soloist and Individual Awards)
Music/Music/Content/Entertainment = Total
Grace/van der Velde /King/Wise/Carter= Total
1. Cory (Philip Harper): 60/60/38/19/20: 197
2. Carlton Main Frickley Colliery (Paul Holland): 57/54/36/18/16:181
3. Brighouse & Rastrick (Dr David Thornton): 48/57/40/13/18:176
4. Manger Musikklag (Martin Philip Winter): 54/51/34/16/19:174
5. Fountain City (Dr Joseph Parisi): 51/45/26/20/17:159
6. Foden's (Michael Fowles): 45/48/32/17/15:157
7. Flowers (Lee Skipsey): 42/39/28/15/14:138
8. Whitburn (Leigh Baker): 36/42/30/14/13:135
9. Hammonds (Morgan Griffiths): 39/36/24/12/10:121
10. Reg Vardy (Russell Gray): 30/33/22/11/11:107
11. Atlantic Brass Band (Salvatore Scarpa): 33/30/20/10/12:105
Individual Awards:
Best Soloist: Paul Richards (soprano) Flowers
Best Trombone: Chris Thomas (Cory)
Best Principal Cornet: Kirsty Abbotts (Carlton Main Frickley Colliery)
Best Flugel: Helen Williams (Cory)
Best Soprano: Ryan Sharp (Fountain City)
Best Percussion Section: Fountain City
Best Euphonium: Gary Curtin (Foden's)
Best Baritone: Paul Haigh (Carlton Main Frickley Colliery)
Best Horn: Emily Evans (Flowers)
Best Basses Award: Flowers
Best Entertainment and Presentation: Cory
Audience Entertainment Prize: Cory
Best Programme Content: Brighouse & Rastrick
Quality of Performance: Cory
New Composition/Arrangement Award: Jacob Vilhelm Larsen
Winning MD: Philip Harper
Youngest Player: Keir Evans Brown (Hammonds) aged 17